This online gallery is a small sample of Lindsay Hebberd's Cultural Portraits of India exhibition and book. For over a decade, Lindsay traveled the length and breadth of India to capture the beauty and diversity of one of the most colorful and fascinating countries on earth.
Lindsay's book, Cultural Portraits of India was originally produced for an international exhibition tour. The photographs contained in the book illustrate the natural beauty and cultural heritage of India with startlingly beautiful images of the country's landscape, arts, peoples, and celebrations.
PURCHASE "Cultural Portraits of India" (wholesale)
India is the seventh largest country in the world, covering a total land area of approximately 3.3 million square kilometers. On its northern border are the snow-covered Himalayas, among the highest peaks on earth. Forming a rough triangle jutting southward from the continent of Eurasia, India is a land of extreme variation in climate. In the northeastern part of the country, the annual rainfall can exceed 1,000 centimeters, while in the west lies the great Thar Desert where conditions approach those of the Sahara. The vast territory of India has been settled by successive waves of immigrants over a period of 5,000 years.
Eight major religions are observed in India, including Hinduism, Islam, Christianity, Buddhism, Jainism, Sikhism, Judaism and Zoroastrianism. Indians speak 17 official languages and nearly 900 dialects. To move through India is to move through a kaleidoscope of ever-changing groups of people, each with its own colors, rituals, language, and dress.
Cultural Portraits of India brings together Lindsay's brilliant color photographs and India-expert and writer Mira Kamdar's perceptive essays. More than 200 photographs, including 24 panoramic spreads, provide the reader with rare glimpses of the dramatic vistas, traditional arts, and peoples. The result is a document that sensitively captures the cultural complexity of India. Contemporary India is a dynamic country of infinite contrasts, where the 21st century coexists with the ancient past. Skyscrapers, cellular phones, and satellite television are some of the features of urban life in India; pollution, poverty, and illiteracy are some of the country's problems. But these are not the focus of this book. Rather, Cultural Portraits of India celebrates the beauty and heritage of India in a spirit of respect, appreciation, and affection for a diverse people and their traditions, talents and beliefs. The book is arranged by chapter headings addressing landscape, people, daily life, religion, arts, and architecture. Each section begins with an essay followed by a selection of photographs with detailed and informative captions.
Cultural Portraits of India: 216 pages. Fully illustrated. 214 color photographs, including 21 double-page panoramic spreads. Color-coded map. Cloth bound. 9.5" x 11.75". Wholesale at $75.00 (limited stock remaining).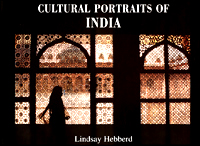 Home | Las Vegas Book 1| India Book | Las Vegas Book 2
Dubai Book | India Exhibit | Indonesia Exhibit | Client List
Art Workshops Gallery | Las Vegas Aerials | Links
© Lindsay Hebberd. No text or images from this website may be reproduced or utilized in any form or by any means, electronic or mechanical, including photocopying, recording or by any information storage or retrieval systems, without permission in writing from Cultural Portraits Productions, Inc. All rights reserved.